If you're looking for 10th year anniversary ideas, don't look any further. We've put together some fantastic ideas to help you and your partner celebrate your special day. Ten years of being together with someone you love is a pretty big deal so whether you're looking for 10th year wedding anniversary ideas, or you've been dating for ten years, celebrations are in order.
To make planning a breeze, we've put together detailed outdoor and indoor 10th year anniversary ideas that you can use as inspiration to put together a warm jubilee. Keep in mind that the amount of money you spend doesn't matter- your anniversary should be about making memories and the time you spend with each other.
Home Dating Ideas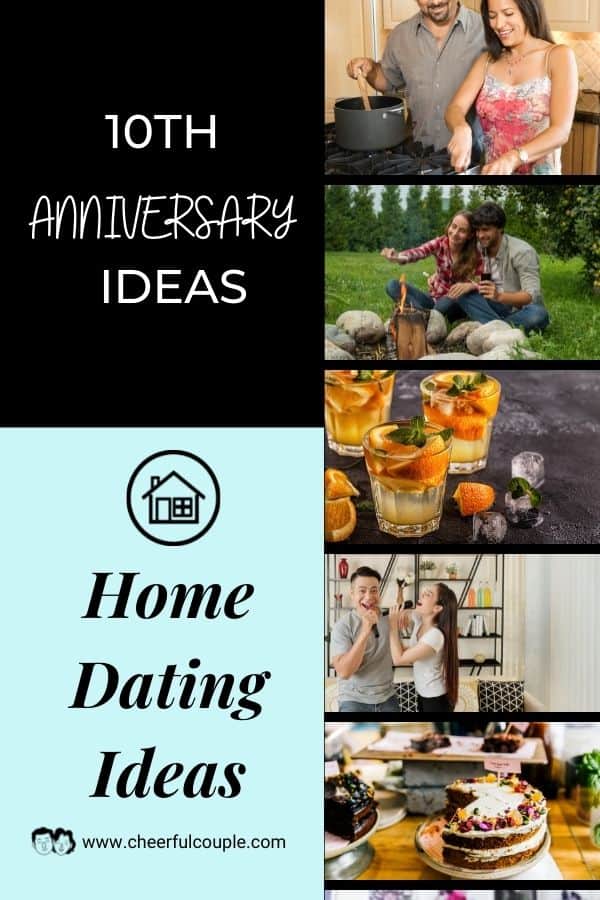 The best 10 year wedding anniversary ideas should focus on spending time together, whether it is somewhere different or simply in the home that you have built together. Your home may be a place filled with happy memories of your relationship, so it is a great idea to plan a special day without leaving the house.
Cook a gourmet meal with your partner
Go on a picnic in your backyard
Wine taste at home
Lounge by the pool
Bring it to the bedroom and decorate with sweet-smelling, romantic candles
Do an indoor photo shoot with each other
Make a photo album of all your best memories together
Take turns reading each other a romantic book
Project a romantic movie marathon in the backyard
Talk about your relationship goals for the next five years
Have an anniversary game night (don't forget truth or dare)
Have breakfast in bed all day long
Recreate your first date and order in
Make it a spa night and give each other massages
Finish that DIY project together
Livestream a concert and dance with each other
Go camping in your living room or backyard
Spread out a blanket in the backyard and stargaze
DIY a mini golf ramp and play all day
Exchange love letters
Embark on a digital detox and snuggle all day
Watch videos of your wedding and relive all the memories
Bake an anniversary cake with your sweetheart
Write a love journal with all the important dates and facts about your relationship
Kick back and hire a chef for the night
Enjoy pizza and beer or champagne with your partner
Plan an indoor scavenger hunt
Write your partner poetry and make them fall in love all over again
Soak in the tub together with chocolates and wine
Make a 10th year anniversary mix of all the music you've danced to
Learn something new on YouTube
Make a blanket forte and spend the entire day in it
Give your partner a pedicure/manicure
Have a competition to make the best homemade cocktails
Host a two-person quiz night
Practice yoga together and get rid of all that anxiety!
Eat more ice-cream than you normally would
Attend a digital event with your partner
Film an exclusive reality show with your partner
Have a staycation in your guest room
Take a look at history through your camera roll
Try face painting with your partner
Plan every single detail of a future vacation
Have a mini-karaoke session
Take a personality test together and remind your partner why you love them so much
Do one activity if you can't get the time off work, or 10 if you've got a whole day together. What matters is that you're spending quality time with the love of your life.
Outdoor Dating Ideas
If you've got a budget to stick to or there's no way to get off busy schedules, a big trip may not be the best choice for 10th year wedding anniversary ideas. Even so, you don't have to travel far for the best celebrations. Your local area will provide all the getting-away you need as long as you keep your options and your mind open. Here's what you can do.
Plan a romantic trip to an exotic destination
Sign up for a salsa class
Go camping (for real this time)
Take some snacks and booze on a sailing trip
Attend a live concert
Rent a convertible and get your adventure on for a day
Spend the day at an amusement park
Renew your vows
Go for a couple's bike ride and visit all your favorite paces in town
Get a tan at the beach
Dine alfresco
Download the geocaching app and unleash your inner detective
Sign up for an outdoor fitness class
Dress up and enjoy a horse rase
Experience an adrenaline rush at a water rafting event
Watch the sunset at a rooftop bar
Go to an outdoor festival
Adopt an animal at the zoo
Visit a winery
Experience the electric atmosphere of an outdoor sporting event
Walk for charity
Buy a billboard and show your love
Get an outdoor photoshoot
Go to the spot where you had your first date
Plan a picnic with some wine and music
Take your partner on a hot air balloon or helicopter ride
Enjoy the cool water of a waterfall
Take a day trip to a lake
Check out your local county fair
Plant a garden together
Spend the day at a botanical garden
Book a tour at a brewery
Attend (or perform) an open mic event
See a drive-in movie
Experience different cultures at a street fair
Go ice skating
Revisit your first travel destination
Make dinner reservations at the next city
Get dressed up and enjoy a night out at your favorite dance club
Visit open houses and plan your dream home
Go bouldering
Visit an orchard
Hit the "pause" button and go birdwatching
Heat things all the way up at a hot spring
Find a food truck and order all the items you'd like to eat
10th Anniversary Gifts – Traditional and Modern Ideas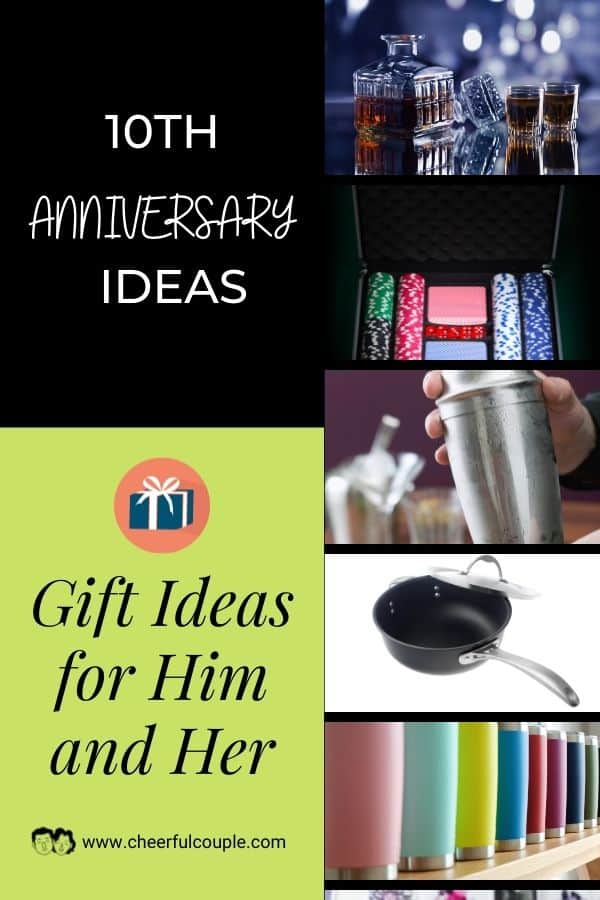 As you look for 10th year anniversary ideas for gifts, you should know that traditionally, the 10th anniversary was marked by either an aluminum or tin gift. The reason why these two metals are associated with the 10-year milestone is that they are flexible, yet strong and durable. They represent the strength of the bond you and your partner share, and how much you've learned to compromise and adapt through the years to create the life you now share.
Nowadays, the modern gift for the 10th anniversary is diamond. Diamonds represent the beauty of your relationship and the strength of the bond you and your partner share.
10 Year Anniversary Gifts for Him
Traditional Gift Ideas
The traditional 10-year anniversary for him should be something made of tin or aluminum. Check out some cool ideas for gifts for the love of your life.
Bar Shaker
Get him a classic shape cocktail shaker made of brass, steel, and aluminum. You can have it personalized in a monogram to tell him how much you love the drinks he makes you.
2. Aluminum Alloy Full-Length Mirror
What better way to let your man know that the time he takes to look good in the morning hasn't gone unnoticed? A floor mirror is a great way of telling him you appreciate his efforts and his good looks. You can put this one on the floor if you have space for it, or hang it if you don't.
3. Vintage Air-circulator Fan
This type of fan comes with an aluminum body and would make the perfect 10-year anniversary gift to place in his office for those hot summer days when the air conditioning doesn't get the job done or if you want to elevate his home office décor.
4. An Aluminum Stag
This gift is simple, but it'll draw in everyone that visits your home. What a way to start some interesting conversation!
Modern Gifts for Him
The modern symbol for 10-year anniversaries is diamond. A diamond is the symbol of the strength of your love and the beauty of the relationship you've built together.
Whiskey Decanter Set
While a whiskey decanter set may not be made of diamonds, it is made of crystal glass that is quite close. He will love the whole set and want to display it for all his friends and loved ones to see. What's more, you can personalize the decanter with his name or the glasses with his initials.
2. A New Wedding Band
Men love getting jewelry too and a new diamond wedding band will be something he will proudly show off and tell everyone that it's a symbol of your 10 years together.
3. A Poker Gift Set
With this set, your husband is bound to feel like the coolest man on earth. If he's always wanted to start weekly poker games with the guys and has never gotten round to it, getting him this set is the best way of telling him that you support his dreams.
4. Anniversary Wall Art
What better way to commemorate your anniversary than by surprising him with some wall art? He will be thinking about you every time he sees it.
10 Year Anniversary Gifts for Her
Traditional Gift Ideas
An Alloy Bowl
If she loves hosting, she will love a serving bowl made of aluminum alloy. Let her take her hostess game to the next level with a gift that's not only meaningful but beautiful too.
2. A Stainless Steel Saucier
Get her a stainless steel saucier with an inner aluminum core that she will love. She can use this saucier for everything from oatmeal to risotto.
3. Lawn Chair
Whether she likes to relax at the beach or on the patio, a lightweight, folding lawn chair with an aluminum frame will make the perfect gift.
4. Retro Tumblers
Nothing says 'let's have some fun' like colorful aluminum tumblers. Order them in a variety of colors and watch her choose which one she'll use depending on her mood.
Modern Gifts for Her
An Apple Watch
While this is no diamond, the frame is made of aluminum which makes it the perfect tenth-anniversary gift for her. If she already has one, why not upgrade it to the newest model and watch her squeal with joy?
2. Jewelry
A girl can never have too many diamonds or jewelry of any kind. All you need to do is make sure that the jewelry you're buying her is something she would appreciate and wear. If you have never seen her wear the kind of jewelry you want to buy, it could be a miss so be careful with this one.
3. A Carry On
If she's a frequent traveler, she will appreciate an aluminum edition carry-on. She will appreciate you making her look good and classy while traveling and the price will be worth it.
4. An Anniversary Vase
Looking to get her something she can use around the house as often as she wants? An aluminum anniversary vase is the real deal. Not only is it sturdy, but it's beautiful and unique.

If you want to look for more gift ideas for your better half, take a look at our "The Best 19 Ideas for 10 Year Anniversary Gift to Perfectly Say I Love You" page.
Too many suggestions!?
If there are now too many ideas running through your mind and can't choose one, the best thing to do would be to ask your partner for some help. The best way of truly knowing what someone wants is to ask them. Or, if you want to turn it into a fun activity, write down the ideas on different pieces of paper then drop them into a bowl. Whatever your partner chooses is what you will do for your anniversary.
Depending on your choice of 10th year anniversary ideas, remember that you can still choose another to complete your experience and make your celebration truly special. Even so, remember that the most important gift you can give to your partner is quality time!