Do you need help with some 50th wedding anniversary ideas? We are here for you! Spending 50 years with someone is a reason to celebrate – you have been through the highs and the lows and come out stronger together. By the time you have reached your 50 year anniversary, you may have exhausted all your traditional anniversary ideas.
Take a look at the list below to help you come up with some original ideas to celebrate this special occasion. You don't need to follow them entirely – use the ideas as a basis for your day and then customize it to suit you and your partner. The most important thing is that you spend the day together, celebrating your love and commitment to each other.
Cozy up at Home
By the time that you have spent 50 years together, it is likely that you will have built a home with many wonderful memories. It is natural therefore, that your home may be the perfect location for your 50th year together. If you both have bust schedules, then the home is also great as there is no travel time eating into the time you have set aside for your anniversary celebrations.
To come up with what to do in your home, think about your favorite memories from your relationship. Do you have a favorite dish that you would like to cook together? If so, source the ingredients and pair these with a special bottle of wine or champagne. With it being your 50th year together, you may have family that you will want to share the meal with, but if this is the case, make sure that you are also taking time for just the two of you.
Create your own mini home cinema by sourcing some popcorn and sweets and cozying up under a blanket with the lights off. Choose one of your favorite films – a romantic comedy would fit perfectly with a cozy and comforting evening like this.
Anniversaries also have specific flowers that are associated with it. A 50 year anniversary has not one, but two different flowers – the yellow rose and the violet. A nice way to tie these in to your day is to order these flowers straight to your door.
Or, buy them in advance and put them in a vase that will sit perfectly on a breakfast in bed tray with their favorite morning dish. This will start the day off well and make your better half smile before they are even out of bed.
Spend time in your city
If you are looking to get out of the house, then you don't need to travel far to discover some great anniversary options. You don't just want to go to the usual spots in your local area however, so ask for advice and recommendations from friends and family members to discover somewhere new and exciting.
If you and your partner are foodies that enjoy eating out, then look online for those restaurants that have the best reviews. A restaurant with a romantic atmosphere would be ideal for an occasion like this. Perhaps look for a restaurant in your local area which has a Michelin star rating, to make the day feel even more special.
An alternative to the classic restaurant style date try and experience something new together. A class is a perfect way to do this. A cookery class that focuses on the cuisine that you most like to eat together, or a pottery class to develop a new skill would be a great way to spend time together while doing something different.
50 years is a momentous occasion, and you might want to document this with a family or couple's photoshoot. Many photographers will offer shoots in their own studios, or at a specific location, so think about any locations that are special to you.

One lovely location for a photoshoot would be the venue or church that you were married in. Bringing your extended family back to this place would be a really poignant way to mark the occasion and look at how far you have came since your wedding day.

Disappear for a Few Days
Sometimes the best way to celebrate your anniversary and spend time together as a couple is to escape the routine of ordinary, everyday life. Planning a romantic getaway for two would be a great gift for your other half.
For your 50th, think about a country or city that you and your partner have always wanted to visit, but never got round to. Book a boutique hotel and a romantic restaurant in this location to surprise your partner and show them how much you still care.
Another alternative is that you go back to a place full of happy memories – perhaps your honeymoon destination or back to a favorite holiday location. This nostalgic trip will allow you to relive your earlier years as a couple while looking back at how far you have come.
If you can't travel this far, then look at hotels closer to home that offer all-inclusive style spa packages that include a dinner in the evening and relaxing spa treatment.
Create a Celebration by Throwing a Party
Most people would love to be celebrating 50 years with the one they love, so why not throw an anniversary party to celebrate alongside all your family and friends. As 50 years is usually called a Golden Wedding Anniversary, gold should be the dominant color in your theme, perhaps with classic romantic red accents.
You can add these color to the room easily, with the use of balloons and table decorations. There are many companies that can make these for you, or, if you are sticking to a budget, you can make them yourself. Check online for inspiration on sites such as Pinterest.
When thinking about where to host your party, consider your own family home if you have the space for a more personal touch, or look for a venue that is easily accessible for all guests – with the option to stay overnight if they are coming from far away.
One thing that most guests remember from a party is the food. For an anniversary party you need to have a cake. Ensure that the cake is large enough to serve all your guests and keep it classy with gold accents to stick with your golden anniversary theme.
Many cake makers can make icing versions of you and your partner, as well as any other family and pets that you want to include. This adds a more personal touch to your cake. Cake tastings are also something that you can do in advance to make sure you get the right flavors. This will help build up excitement for your special day too!
Before the cake however, it is a good idea to offer some kind of main course. Many venues cater for large numbers with buffets. This is usually more affordable than a full sit down meal and it means that guests have more options.
For entertainment think about what your guests will enjoy. What kind of music do they like? A live band is always great entertainment, but their song selection may be limited. A DJ will have a larger music selection so will be able to take more requests. Either way, make sure your guests are dancing all night long!
50th Anniversary Gifts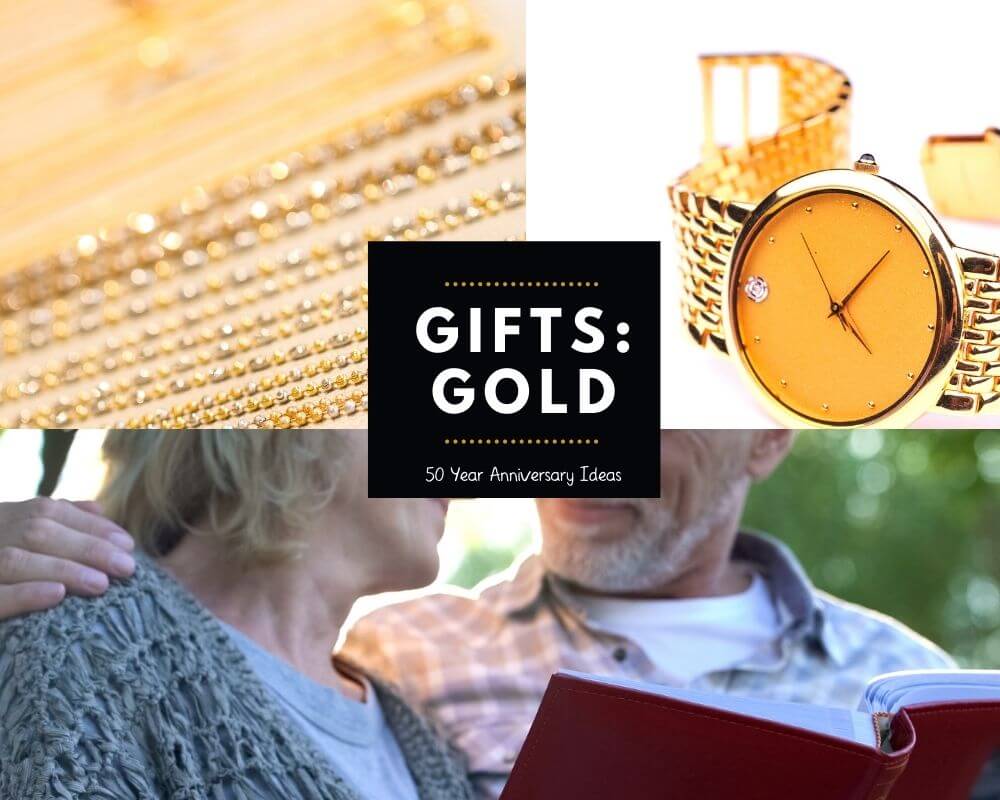 While spending time together is the most important thing, some couples also like to surprise each other with a thoughtful anniversary gift. Each anniversary has a material that it is traditionally named after, for 50 years, it is golden.
A traditional gift for a golden anniversary would be a bit of gold jewellery, perhaps a gold necklace for a female partner, or gold plated watch for a male partner. If you can engrave these to personalize them, it makes it even more special.
As you have been together for such a long length of time, an even more personal gift would be a photobook, with pictures and captions that track your relationship from the beginning up until now. This will allow you and your partner to look at it together, while taking a trip around memory lane.
To find out more gift suggestions, please check out our page:
25 Ideas for 50th Wedding Anniversary Gifts: What's the Best Gift for Him and Her
Is this all a bit too much!?
Now you have a lot of ideas it might be difficult to work out which one to do!
Take into consideration who you want to spend time with on your special day. Is it just your partner? Or are there family members like children or grandchildren that you would like to spend time with too? This might help narrow down your options.
As a 50th anniversary is such a big milestone, you may want to stretch the celebrations over a longer period of time – using more than one of the ideas on the list. Perhaps spend some time with your family, before escaping so that it is just the two of you.
Quality time is important for any relationship and your anniversary is the perfect reason to carve some time out with each other.