Ran out of options and need some 25th anniversary ideas? If you have been with your partner for 25 years, it is definitely a milestone worth celebrating. You have been together for a quarter of a century which is a long time.
Below is a list that will help you decide how to spend your 25 year anniversary. There are plenty of ideas for you to choose from, from outdoor adventures to romantic getaways to mark the special occasion. But remember, it doesn't matter about have the biggest budget or the most extravagant gifts. The key is that you spent time together and recommit yourselves to each other.
Spend Time In Your Beautiful Home
In recent months, we have had to spend more time at home due to the coronavirus pandemic, so it may be necessary to spend your anniversary at home too. But this isn't an excuse to make the day boring, you can still pull out all the stops to ensure that your better half feels special.
Start the day off right with a romantic breakfast in bed, if you are super early risers you could even get up and watch the sunrise together.
If you prefer a lie in, then focus on the end of the day by preparing a romantic dinner for your better half. Choose their favorite meal from their favorite restaurant and try to recreate it at home. Don't forget the champagne to toast your special occasion.
If you are more of a cocktail lover, source some at home cocktail kits. These kits come with all the ingredients and instructions to make some of your favorite cocktails, and this is a fun experience to try with your partner. You might even get some Instagram worthy drinks at the end of it!
If cooking isn't your forte, but you like to wine and dine, then many restaurants offer an at home delivery service. Take out means less fuss and more time to spend with each other.
After you have eaten, take a walk down memory lane and look at your wedding album from 25 years previous. This will remind you of that special day and the vows that you promised each other.
Explore Your Local Area
You don't need to go far to find somewhere special to spend your day. Look up popular tourist attractions in your local area that you may not have visited as this would be a great experience.
A botanical garden or national park near you would make the perfect location for a romantic picnic, while a garden with a rooftop terrace overlooking the skyline would be the perfect spot for an anniversary bite to eat.
If you are planning to eat out, then make sure that there are some extra special touches for your extra special day. Arrange for flowers to be on the table when you arrive, a special message written on the dessert or a private dining room to make the experience even more intimate – after all, it is your special day.
A perfect thing to do in the local area is an anniversary photoshoot, either as a couple or with all your family members and pets! This can be at your home, the photographer's studio or in a local park or beach for an outdoor photoshoot. These pictures will help you remember this day forever.
Whisk Your Partner Away
If you have the time and the budget, then perhaps consider a romantic getaway where you can forget everyday life and just focus on each other. Quality time together is what is important, and this will help your marriage last another 25 years.
A lovely, romantic touch may be going back to a place that has a special meaning from your past such as your honeymoon destination or your wedding venue. Make this trip even more special by booking a luxury hotel with an all-inclusive package or a spa, to add that extra sense of luxury to your getaway.
If you have been together for 25 years already, you are likely to have traveled together. Your anniversary is the perfect time to identify somewhere that is still on your bucket list, and go and experience it together. This could be an exotic location where you can relax on sandy white beaches, or a city break where you can immerse yourself in a different culture.
If you are Party People…
If you have been together for twenty five years then you have survived a quarter of a century – and that is a reason to celebrate! You could hold a small gathering for family and friends at home, or hire a room at a venue for a larger gathering. Just ensure that guests coming from far away have somewhere to stay so that they can join you in your celebrations.
When it comes to decorations, it is best to stick to a theme. For a 25th wedding anniversary, a silver theme is both classy and timeless. Adding silver elements to the table decorations and with balloon arrangements will bring this all together without costing a fortune. You can also add these colors into the invites to your party so guests know what to expect before they even step through the door.
In terms of catering, it is important the guests leave your event with a full heart and full stomach. A buffet is one of the easiest ways to feed large numbers of people, whereas a sit down meal can be more formal for a smaller group.
If you are celebrating in your own home, many catering companies can come into your home and do the hard work for you. If you are using a venue, then the kitchen will have multiple menu options for you to choose from.
An anniversary party is not complete without a cake so make sure your one stands out! Be proud of the fact that you have spent 25 years together by displaying it in silver on the top of the cake. Add in personal touches, such as edible photos of you and your partner throughout the years to make it even more special.
Let's talk entertainment – a very important part of any party. Music is a must for any party and there are many options on how to do this. Create your own playlist to play in the background that features all you and your loved one's favorite songs. Alternatively, if the budget allows, hire a live band or DJ to entertain your guests and keep them dancing all night long.

If you really want to surprise your guests, then consider having a vow renewal at your party, where you recommit yourselves to each other in front of all your family and friends. This is a special moment that will stay in your memory forever.
25 Year Anniversary Gifts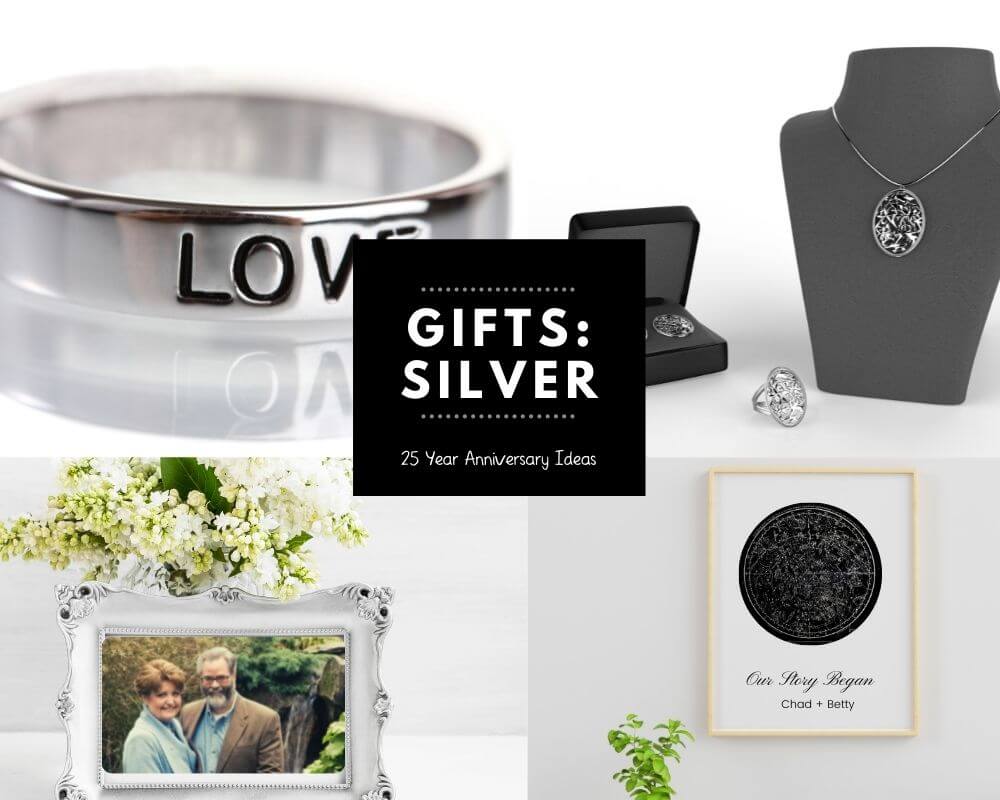 If you also get a gift for your partner as well as spending time together then keep reading. A 25th anniversary is also known as a Silver Wedding Anniversary, so it would be nice to include some silver in your gift.
Silver plated, or Sterling Silver jewelry is a popular option – but a way to make it even more romantic is by adding some kind of engraving or personalization to it. If you are on more of a budget, then a silver photo frame with a picture of you both is a lovely memento of your time together that your other half can look at every day.
There are also companies out there that will design beautiful silver sparkling star maps that show the night sky as it was on a specific date. What a beautiful thoughtful gift it would be to give your partner a snapshot of the stars on the night that you were married. This is a gift that they would treasure forever.
Meanwhile, check out more gift ideas for silver anniversary here – 25 Ideas for 25th Wedding Anniversary Gift: Pick the Best Gift for Him and Her
Lots of ideas?!
Do you now have too many ideas? Not sure which one to choose from? If your partner wants a surprise, then a lovely way to do this is by putting many different ideas into a hat or jar and asking them to pick one out. Don't tell them at the time but arrange this for your special day. This will help build up excitement too.
If you and your partner like to communicate and decide together, then put forward some suggestions and choose one together for you to look forward to. The key is that you spend time together no matter what you do or where you do it. This special day is all about celebrating your love.