Are you looking for nice ideas for 5 year anniversary gift?
Traditionally, 5 year anniversary gifts are celebrated with wood, while the modern symbol is silver. For those looking to commemorate half of a decade together, wood symbolizes the strength of your relationship, while silver is meant to demonstrate purity and power.
Whether you are purchasing a gift for your partner or your favorite couple, we have 24 perfect options to ensure that you delight your recipient. Go through the list to find the gift that perfectly says I Love You…
5 Year Anniversary Gifts that are Made of Wood
1. The Bath Caddy
Choosing a caddy made out of water-resistant teak is a great way to show your partner that you want their bath to be as luxurious as possible. Many trays have holders for your book, a glass of wine, and some of your favorite bath products. If you love spends a lot of time in the bath, this may be perfect for them.
2. A Wooden Storage Bench
Did your favorite couple just redo their backyard patio or deck? A tremendous 5th year wedding anniversary gift for the couple who loves to entertain is a storage bench made of wood that can sustain the outdoor elements – stained acacia is a fantastic choice. They will be able to safely keep cushions, bug repellent, and many other essentials in the security of their new gift.
3. Wooden Picture Frames
Whether you need a new frame for your wedding photo or want to show off different memories from the past five years, a wooden frame is a great way to display your favorite moments. Wooden frames match any décor and are great for showcasing vacations and family photos.
4. Personalized Wooden Box
A personalized present makes a fantastic 5 year anniversary gift. You can add names, dates, quotes, or any other notable sentiment. An excellent gift for a couple or a spouse, you can fill the box with ticket stubs, souvenirs, or even the receipt from your first date! Personalized boxes can be found everywhere from Etsy to Things Remembered.
5. A Wooden Cutting Board
Do you know a couple that loves to cook? Sites like Uncommon Goods have beautiful cutting boards made from wood in which couples can add their names. These impeccable boards are large with name carvings at the top. This is a fun gift to give to the couple who enjoy spending their free time in the kitchen!
5 Year Anniversary Gifts that are Made of Silver
6. Silverware
Does your spouse have an affinity for classic gifts with a modern flair? If so, considering a silverware set may just be the perfect gift for them! While choosing a flatware set, look for styles that match their current décor. There are so many unique and beautiful sets to choose from that will delight your favorite couple.
7. Silver Jewelry
5-year wedding anniversary gifts containing jewelry are not just for the ladies! Of course, feel free to buy your love a stunning necklace or set of earrings to celebrate your five years. However, the guys will certainly appreciate a nice ring or bangle they can use to dress up their outfits or stand out at work.
8. Silver Candlestick Holders
Does your five-year couple take pride in entertaining their guests? If so, finding things that can help them jazz up their dining room is a very thoughtful gift. Keep an eye out for a modern or traditional set of candlestick holders that they can whip out during their next dinner party. This is a luxe gift without being too excessive.
9. Decorative Service Dishes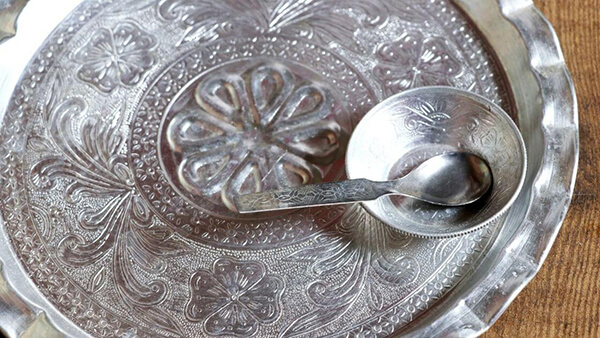 If your husband or wife likes to make dinner feel like an especially fancy event, a decorative serving dish made from silver is an easy way to add a touch of class and elegance to any family dinner.
10. Steak Knives
Does your guy prefer to spend as much time at the grill as possible? Surprise home with a set of steak knives so that he can get in touch with his inner manly man. Go for a sturdy set with thick handles to ensure they are of excellent quality. Steak knives are simply a perfect kitchen gift for him.
Other 5 Year Anniversary Gifts For Him and Gift For Her
11. A Custom Photo Book
There is no better 5 year anniversary gift than a book full of the best memories from your half of a decade together! Chances are you have thousands of photos stocked up on your phone. Why not choose a few of your favorites to create the perfect keepsake? This is an ideal gift for him, her, or the celebrated couple.
12. An Anni-Moon
Similar to a honeymoon, the Anni-moon is a way for couples to celebrate their anniversary on vacation. Inclusive couples' resorts or a European excursion are just a few great choices. Whether you are revisiting the location of your honeymoon or exploring an entirely new place, be sure to take plenty of pictures to keep your new memories forever!
13. Chocolates
Whether an additional gift for a couple, or a low-key present for your love, a box of decadent truffles, chocolates, or treats is a fantastic way to show your love. After all, we can all agree that the way to our hearts is through our stomachs. Choose from hundreds of different treats in various colors and designs to ensure you get the WOW factor.
14. Barware
You can pick up a set in silver or any other color or design, but a well-made barware set is a great 5 year anniversary gift. If you know a couple with a love of cocktails, gift them a set with a bottle of their favorite liquor for a truly thoughtful gift. Which brings us to our next present on the list…
15. A Bottle of Fine Wine
Opening 5-year anniversary gifts are just not the same without a delicious glass of wine. Try choosing a bottle with a bit of sentimental meaning. It can be the wine served at their wedding or a vintage made the year they were married. If you can't find a good bottle to fit either of those sentiments, look for a five-year-old vintage to mark the occasion.
16. Perfume or Cologne
While there may never be a better opportunity to give a bottle of Chanel No.5, any luxe bottle of perfume or cologne is a great gift for her or him. Scents are always such a unique and personalized gift. Whether it is a gift for him or her, be sure to pick one with a fantastic bottle that they can proudly display.
17. Cookware
The couple that cooks together stays together! Gifting a classic and timeless set of pots and pans is a fantastic way to ensure that the celebratory couple can upgrade their kitchen. Cookware is a unique 5 year anniversary gift as many couples likely haven't purchased a new set since they got married.
18. New Sheets
Nothing quite screams luxury and comfort like a new sheet set! Surprise your love with an elegant and luxe set from their favorite designer – it will earn you major points! Nothing beats a good night's sleep, especially on a pair of fresh sheets. Be sure to choose a fabric that is comfortable, breathable, and looks fantastic on your bed.
19. A Watch
There is no better way to celebrate the time spent together than with a timeless timepiece. Feel free to keep with tradition and gift a watch made of silver, or break from the trend and choose other materials that accurately represent your love's style. For a truly unique 5 year anniversary gift, look for a style with wood or silver.
20. An iRobot Roomba Robot Vacuum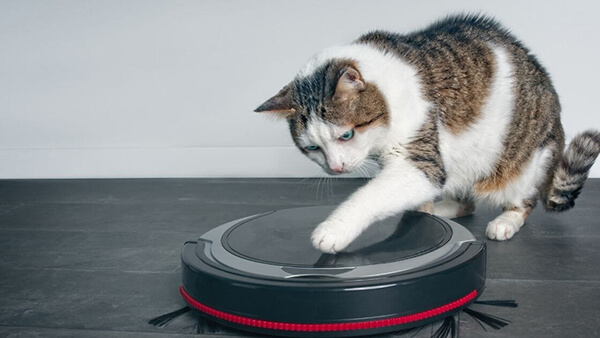 Making a couple's life easier is just about the best gift that we can imagine! No longer with anyone fight over whose turn it is to vacuum. After five years, any couple who has kids or pets will jump for joy over this one!
21. A Digital Camera
Continue to make many more years of memories with your love! Digital cameras come in all shapes, sizes, and models that can fit within everyone's price range. Giving a camera as a 5th wedding anniversary gift is great for any couple who loves to travel or go on new adventures together.
22. A Telescope
Are you looking for a new hobby to take on with your partner of five years? When you aren't gazing into each other's eyes, try gazing into the stars. Any telescope is excellent for beginners and can help couples continue to reconnect over new experiences together.
23. A New Office Chair
Are you and your partner stuck working from home? A new office chair could be just the thing to help your spouse's achy back and poor posture – we are all guilty of the slouch. For those who don't think it is very romantic, have you ever struggled to stay comfortable in a stiff chair for eight hours straight? Real love is relief from pain and uncomfortable chairs.
24. Don't Forget The Perfect Card
Whether it is your fifth or fiftieth anniversary, the right card can make or break your gift. These printable and free cards let you pick the perfect design and add your own message for that flawlessly thoughtful final touch.
5 Year Anniversary Gifts in Review…
Whatever ideas for 5 year anniversary gift you choose, make sure that it speaks from the heart. Whether it's for him, her, or a gift for your favorite couple, it should show that you know them well and want nothing but their sincere happiness as they celebrate half of a decade with their partner in crime!