In this article, you'll find a list of the best anniversary gift ideas for him.
Let's call it like it is; finding anniversary gifts for him is a difficult task. Men can be some of the most challenging people to shop for because they rarely give you enough information regarding what they would like or what they may need.

Whether you are looking for anniversary gifts for a boyfriend or anniversary gifts for your husband, we know that choosing the perfect gift is really important! After all, finding a gift that shows your appreciation while making your partner feel important and loved is the utmost goal.

Whether it's your first anniversary or your 25th wedding anniversary, there is sure to be an anniversary gift for him on this list that will make his face light up when he opens it! We know that you put a lot of work into making your guy feel special all of the time, but it is important to pull out all of the stops when it comes to anniversaries!

We've put the leg work into finding the best gifts so that you don't have to scour the internet looking for the perfect one. Keep reading to learn more about the 21 top gifts to grab for your man on your anniversary.
Portable Espresso Machine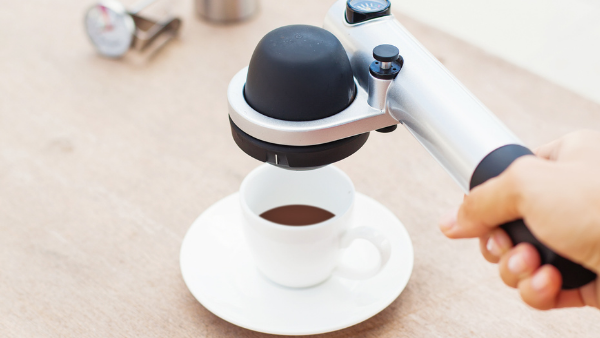 Is your guy always on the go? Whether it's work, the gym, or family obligations, it is safe to say that we all need our fair share of caffeine to get us through the day. Why not up your guy's coffee or espresso game? A portable espresso machine is perfect for the guy who needs an instant pick me up on the go.
A Leather Journal
Is your guy a creative type? Or maybe he's got a lot of winning ideas swirling around that head of his, and he needs to get them onto paper? Whatever the case may be, a leather journal provides a fantastic opportunity for him to get his ideas and thoughts onto the page! He'll love a sleek yet rustic leather journal in which to keep all of his thoughts.
A New Jacket
Your husband or boyfriend can always use new clothes! Is it just us, or do guys typically forget to pick up new clothes when their stuff starts getting stale? And let's be honest, our guys love when we do a little shopping for them! Surprise him with an anniversary gift that will keep him warm, cozy, and very stylish!
Radio and Bluetooth Speaker
Whether he needs to blast his tune during a workout or play a few jams while he and the boy are grilling in the backyard, a stylish Bluetooth speaker is perfect for the guy who loves to soundtrack his life. Many of these speakers connect seamlessly with his phone, laptop, or tablet to give him plenty of listening options.
A Set of Wireless Headphones
Is your husband or boyfriend always on the go or a techie? The best anniversary gift for him is one that keeps him connected even when he is on the run. A pair of wireless headphones will let him move seamlessly from a work call to a sweat session at the gym. Make sure to get him a pair that is sweat and waterproof!
Cologne
Ok, so this may be as much a gift for you as it is for him, but a great bottle of cologne is sure to impress any guy. By now, you likely know your husband or boyfriend's favorite scent. So, spoil him with a bottle that he will love, and you are sure to love smelling on him when you snuggle in close.
An Electric Toothbrush
Anniversary gifts for your boyfriend can be a bit hard to choose, especially if it's your first anniversary, which is why you can never go wrong with a gadget. An electric toothbrush makes a great gift for any guy! They are useful, straightforward, and a fresh take on a practical gift. There are many to choose from, so be sure to grab him a set that suits him well.
A New Wallet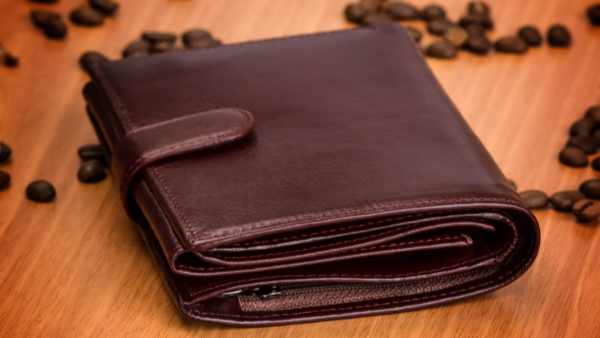 There are so many wallets to choose from for anniversary gifts for him! You can select a designer wallet, a smart wallet, a minimalist wallet – trust us, they are just as varied as purses! Figure out which kind of wallet suits his lifestyle the best and pick one out for him in a style that you know he will love!
AirPods Case Cover
We are all guilty of throwing our AirPod cases around like they won't get messed up or dirty, and your man is no exception. Help him keep his case and pods in mint condition with a cover fitter for his pod's case. There are many different styles to choose from. Try looking for one that matches his gym bag, which is most likely when he will need his pods the most.
Custom Engraved Wooden Watch Box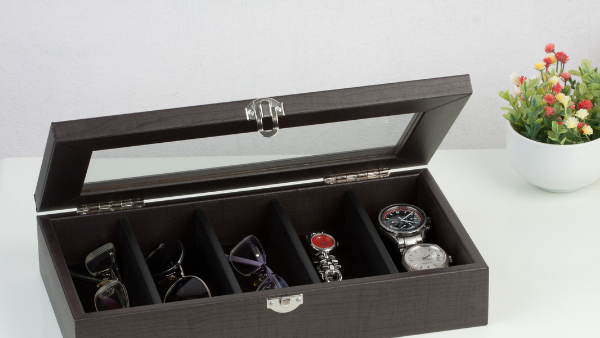 Is your boyfriend or husband the flashy type that likes to keep a watch to match every outfit? We respect that! Why not surprise him with a gift that lets him keep all of his favorite timepieces in one place? Engrave the box with either his first or last name to add a nice personal touch that is sure to grab his attention and make him smile.
Insulated Beer Glass Cooler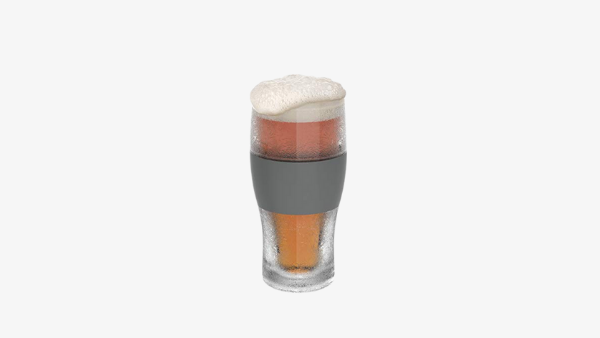 Unlike the cooler you bring to tailgates and game day, an insulated beer glass looks more like a high-tech koozie for your brew. Perfectly fitted to go over a beer bottle, your husband or boyfriend can use this during cookouts and barbeques to keep his beer perfectly chilled and his hands dry and free from condensation.
A Skincare Set
Hey, these are not just for the ladies anymore! Men are becoming much more health-conscious when it applies to their skincare routine, and we could not be happier – finally, they understand! If he doesn't already have a go-to set, determine his skin type, and figure out which brand makes a line best suited for his needs.
A Foam Roller
If your guy spends a lot of his free time at the gym or has a love of working out, he will surely need a recovery routine to prevent the risk of injury or tired muscles. Stretching and foam rolling is an easy way to make sure he works on his flexibility just as well as his biceps. Trust us; he'll be glad you could think outside the box when considering anniversary gift ideas for him.
Smart Phone Sanitizer
We have all become obsessed with cleanliness and sanitization, and we all know that our phones are harboring a vast amount of bacteria. A phone sanitizer makes a great anniversary gift for him! Some of these high-tech sanitizers even have a charging port so he can multitask!
Shaving Kit
This goes hand-in-hand with the skincare set. Let's face it; our guys are beginning to care more about their appearance and taking better care of their skin. Anniversary gifts for him that upgrade his shaving game will ensure you win. Go for one with an exfoliator, beard gel, face oil, any set with a few extras is sure to pique his interest.
A Fresh Pair of Kicks
Whether your guy is a runner or simply likes a classic pair of stylish statement sneakers, a new pair of sneakers will leave him satisfied and ecstatic with his unique anniversary gift. Men love their shoes, too, especially if your guy is a sneakerhead! Go for something a bit out of the box as men are becoming much more adventurous with their shoe choices.
A Hot Sauce Making Kit
If you like spicy foods as much as your guy, then this anniversary gift for him could benefit you as much it does him! There are plenty of different kits to choose from, and whichever one you decide on, he will love creating new concoctions for his next grilling sesh!
A Charging Station Organizer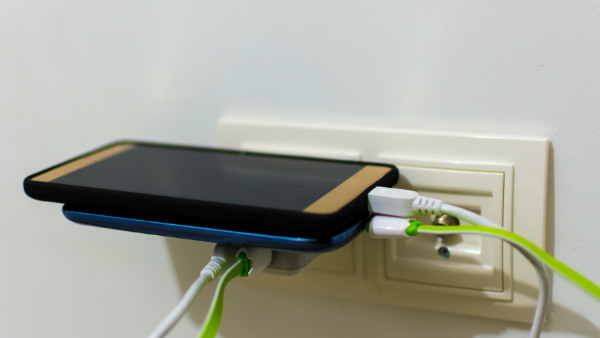 Is your husband or boyfriend a bit of a tech-obsessed dude? If so, a charging station organizer is a great tech gift to give him on your anniversary. It's convenient and lets him charge all his devices in one accessible location. You'll love it because it's going to cut back on the clutter and mess of cords that are surely junking up his bedside table.
New Workout Equipment
Whether your boyfriend or husband wants to upgrade his current equipment, or he is looking to try something entirely new, a new set of workout equipment is sure to get him excited and his blood pumping! Bonus points if you can use it too!
A Cashmere Scarf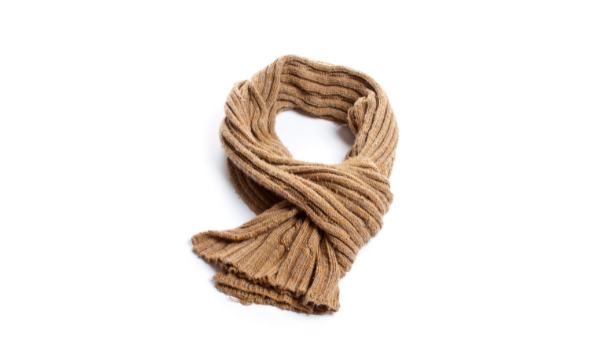 For your favorite stylish guy, a classic cashmere scarf is a perfect way to keep him looking great and staying warm! He'll be sure to think of you every time he wraps his cozy scarf around his neck.
Free Printable Cards
Don't forget about adding the perfect card to your thoughtful gift. These personalized, free printable cards are personalized and let you add just the right message. Adding poems, sweet wishes, or heartfelt quotes will make these cards a one-of-a-kind addition.
He Will Love What You Get Him… No Matter What!
Picking out an anniversary gift is always a bit of a challenge, especially if you have been together for a long time. However, it is essential to keep in mind that simply spending the time and energy to pick out something you want him to love will put a smile on his face! As you think of anniversary gift ideas for him, be sure to include a lovely handwritten note that lets him know all of the ways that you love him and why he makes your life so special.