Struggling to come up with anniversary gifts for her ideas?
Finding the right anniversary gifts for her can be quite the challenge. Choosing a gift that will make your wife or girlfriend truly ecstatic on your anniversary doesn't have to be such a daunting and stressful task.

Gifting for couples should be a fun and enjoyable way to show your love how much they mean to you and how much you appreciate them! Also, guy, this is an opportunity to show your lady how much you are listening to her. You know what your girlfriend or wife loves, so it should be no surprise how much they will appreciate the gesture of giving them a gift they know that you put a great deal of thought into.
Chances are you want to give your lady something incredible – no matter the price range. When it comes to giving a fantastic anniversary gift for her, most guys are completely lost; however, it is common for you to need a bit of direction in choosing the perfect gift.

We've got twenty of the best anniversary gifts for her ideas that sure to wow your girlfriend or wife! All you need to do is sift through the list and find the gift that is going to have your wife or girlfriend showering you with kisses!
A New Weekender Bag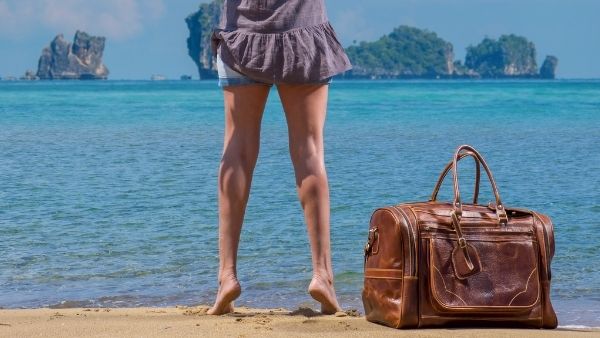 Is your lady the adventurous type? If she is the one always planning your long-weekend getaways, then your lady is most definitely someone with a healthy dose of wanderlust. Surprise her on your anniversary with a weekender bag from her favorite designer. Before she's even checked out the bag, she'll be planning her next trip and next chance to show off her new bag!
A Cooking Class
Nothing would mean more to your lady than a new learning experience that she can share with you! This gift benefits you as well. After cooking the class, you get to eat all of the delicious food. Women love sharing experiences with those they love the most, so this is a gift that will indeed be a surprise and something that she will never forget!
A Set of Sheet Masks
Do not be fooled, and we are all obsessed with these. Skincare masks are great anniversary gifts for her. She will be so excited to try out all of the different kinds of masks to find the ones that work best for her skin! If you're feeling adventurous, pop one on and spend the day pampering yourself with her.
A Luxe New Body Wash
Look, us ladies love things that smell good and make our skin soft. Here is what you have to do, figure out which brand or scent your lady loves the most, and find a luxe set that is sure to have her skin feeling silky and smelling delicious. Cosmetic stores and counters at department stores are a great place to find skincare sets that are sure to wow her.
A Subscription to A Meal Delivery Service
If your lady is a health nut or loves good food but doesn't have enough time to cook, why not gift her with a subscription to a food delivery service? There are so many to choose from, making it easy to find one that suits her lifestyle and her dietary needs. This is a great anniversary gift for your wife, especially if she is always on the go.
A New Hair Dryer
Sure, it doesn't sound exciting, but women sometimes don't like buying the things they use every day because they just aren't that fun to shop for. Surprise your wife or girlfriend with a new top of the line hair dryer that is sure to get her excited for the next time she has to dry and style her hair.
A Diamond Necklace
A delicate diamond necklace or stack of necklaces is sure to excite your girlfriend or wife during your next anniversary. Dainty and stackable necklaces are classic and all the rage at the moment, so opting for something within this style is sure to have her putting it on as soon as she gets it out of the box.
A Set of Bath Bombs
Does your lady love to spend the end of her day unwinding in a warm and relaxing bath? If yes, chances are she is a fan of bath bombs! If you're running out of anniversary gifts for her ideas, these are a fun and easy gift to give to your lady as you can pick from so many different fragrances and colors. She will be so excited to try them all out!
A Subscription To A Book Club
If your wife or girlfriend is bookish, then books are the perfect anniversary gift for her! Each month a new book is sent directly to your front door, so this is most definitely the gift that keeps on giving. Each month when her new book arrives, she'll be reminded of your thoughtful gesture. Some of these subscriptions allow for extra customization, depending on your lady's taste.
A Leather Wallet
Yes, women are always focused on having a fabulous handbag, but how is your lady's wallet looking? Your wife or girlfriend will appreciate a new leather wallet that matches well with her bag and has plenty of space for her cash, cards, and everything else! Figure out your love's favorite designer and find a wallet from that designer that pairs nicely with her bag – she will love it!
Portable Blue Tooth Speaker
Whether she needs to jam out while she's working out or likes to have some music playing while she works from home, a fantastic anniversary gift for her is a Bluetooth speaker that she can quickly move around with her. There are many different kinds to choose from, so try finding one in her favorite color that matches her lifestyle needs.
A New Makeup Bag
A stylish leather makeup bag is sure to excite any woman! When shopping for an anniversary gift for your wife or an anniversary gift for your girlfriend, if she is the type to like skincare and makeup, chances are she never has enough room in her makeup bag! Grab a large, leather style that can house all of her stuff and is easy to clean.
A New Pair of Earrings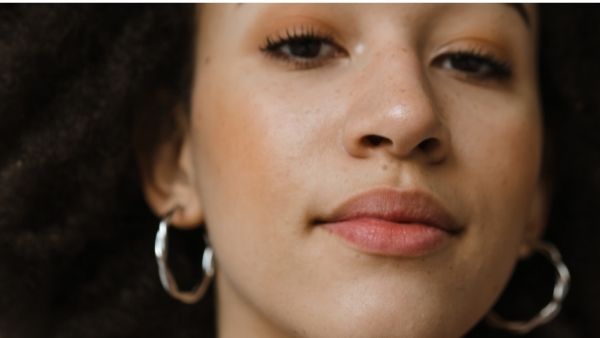 Is your lady a stud or a hoops kind of girl? Try finding a classic, beautiful pair – something that will go with everything from her favorite white tee to her little black dress. Sticking to a classic silver or gold pair is a surefire way of getting anniversary gifts for her she is bound to love!
An Exercise Bike
If your wife or girlfriend is a busy woman, she most likely finds it difficult to fit in a workout. Surprise her on your anniversary with a new workout bike that she can set up and hop on right away. She is going to love being able to get in a quick and easy workout!
A Weekend Road Trip
There is nothing better than a quick escape with your love to celebrate the time you have spent together. Taking the initiative to plan and execute a surprise trip for your wife or girlfriend will blow your partner away! She will absolutely the time and consideration you're dedicated to her gift.
A New Tablet or Kindle
If your wife or girlfriend is constantly on the go, this anniversary gift for her may just be exactly what she needs! This is an excellent gift for the constantly connected woman and works throughout most of her day. She'll be able to easily keep up with all of her tasks and even squeeze in a quick Netflix session if she is lucky.
A French Press
If your girlfriend or wife loves her coffee, there is nothing better than a fresh cup of French press coffee – it is so delicious! Everybody likes a happy woman in the morning, and a French press is one of the best anniversary gifts for her ideas that's a quick way to put a smile on her face!
A Cashmere Sweater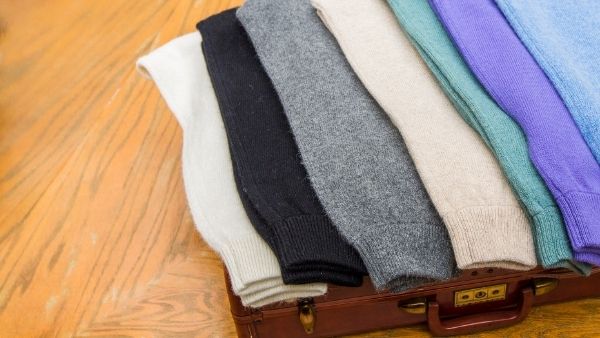 Nothing feels quite as amazing as an undeniable soft and cozy sweater to snuggle up with! Find a color that she loves and that compliments her hair and skin tone! She will be thrilled to open this gift and so appreciative of the time that you dedicated to picking it out!
A Pair of Apple AirPods
Whether your lady likes to break a sweat or has a job that requires her to constantly be connected, a set of AirPods is sure to make her grin from ear to ear! This is a perfect anniversary gift for her, and she will be so delighted when she opens the box to find her new pods!
A Cozy Loungewear Set
We love our cozies – it can't be helped! Finding a loungewear set that is soft, luxurious, and gorgeous is a fantastic anniversary gift for her! She will love lounging around the house and snuggling up to you in her new set!
Free Printable Cards
There's no better way to add a thoughtful touch to your anniversary gift for her than with a unique greeting card. No need to head to the nearest store and pick from the same overpriced and generic card. These adorable, printable cards are blank inside, so you can add your own message to say what you mean from the heart.
She Will Love The Thought!
No matter what you choose for your wife or girlfriend, be sure to choose something that you put thought into. She will love knowing that you took the time out of your day to consider exceptional anniversary gifts for her ideas and choose something you thought she would appreciate – this may be better than the gift itself!